Aggressive and Experienced Orlando Divorce Lawyers
Award-Winning Legal Representation for Your Divorce Case in Florida:
(800) 822-5170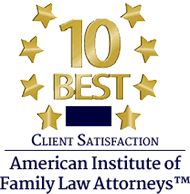 Our team of divorce lawyers have litigated cases throughout the state of Florida. We know that a divorce is often a traumatic event that affects most aspects of your life. Our lawyers understand you need an aggressive litigator, but that you also deserve a compassionate lawyer to help you through this difficult time.
Because our attorneys have handled divorce cases throughout Florida, it gives us the experience that smaller firms may never have been exposed to. This experience and commitment to excellence has allowed our firm to develop a statewide reputation for aggressively litigating divorce cases.
What Sets Our Divorce Law Firm Apart?
24/7 Access to Your Attorney
Same-Day Appointments Available
Listed in the National Trial Lawyers: Top 100
Serving Families for 40+ Years Combined
---
Our firm excels in divorce cases dealing with property distribution, alimony claims, distribution of retirement benefits and child custody. We work with experts throughout the state of Florida, including accountants, appraisers, and certified divorce financial planners to make sure any resolution of your case is not only fair, but an accurate distribution of your debts and assets.
The best interest of the child is not only the legal standard used to determine child custody, it is always our top priority in a divorce case. When called upon to represent a client in a divorce case involving a child, our firm immediately directs its attention to protecting your child's interest and your rights as a parent. We know that material items can come and go, but raising your child is truly irreplaceable and priceless.
Our lawyers will work with you to discuss and analyze every piece of evidence to build a compelling courtroom strategy. Our firm is not afraid to engage experts in our pursuit of a winning strategy.
Let our experienced and aggressive Orlando child custody lawyers put their experience to work for you. Call to schedule your consultation today.