Defending Your Peace of Mind
Child Support Attorney
Orlando Child Support Attorney
Strong Advocates for Complex Child Support Cases
Florida law recognizes that both parents have an obligation to financially support their children—even after a divorce or separation. This duty to support your child includes providing not only the basic needs of a child such as food, clothing and shelter, but also extends to the child's medical expenses, child care expenses, and education expenses.
The Orlando child support attorneys at The Virga Law Firm, P.A. will work tirelessly to protect your rights in child support cases. Our child support attorneys know that parents going through a divorce or separation often disagree over issues related to child support. Most child support litigation involves a parent's unwilling to pay his or her appropriate share of the child's expenses.
Our Orlando family law team will work closely with you to examine all of the relevant factors of your child support case. This includes determining the accurate income of the parties, the amount of time sharing truly exercised by both parents, and the costs of the child's daycare and health insurance.
Once these cost and income figures have been accurately determined, our child support attorneys in Orlando, FL will meticulously calculate the child support obligation of the parents based on the Florida child support guidelines' statute.
At The Virga Law Firm, P.A., our child support lawyers near you are prepared to zealously represent you through the calculation process. Our firm has a track record of success in the court room and in mediation. Need an Orlando child support attorney? Call us today at 800-822-5170!
How Is Child Support Calculated?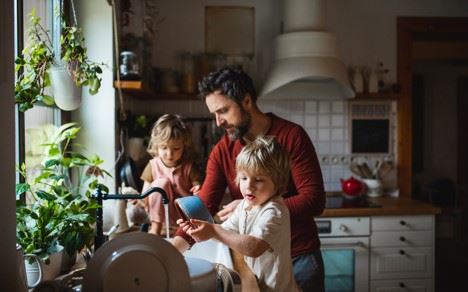 In Orlando, Florida, child support is calculated based on each parent's income and the number of children. The Florida child support guidelines can be found in Florida Statutes 61.30, showing how much a parent may be required to pay based on their monthly net income and the number of children they are supporting.
The Orlando court may order more or less child support than the guidelines recommend, taking the following factors into account:
The needs of the child or children,
Age
Station in life
Standard of living
The financial status and ability of each parent
Can the court deviate from the child support guidelines?
Our child support attorneys in Orlando, Florida know that strict reliance on the child support guidelines can create an unjust result for some parents. But our Orlando family law firm has extensive experience advocating for clients' right to deviate from the guidelines if the case allows.
The court may permit deviation from the child support guidelines based on the following factors:
Extraordinary medical or dental expenses related to the child(ren)
Seasonal variations in one or both parent's income
Age of the child(ren), recognizing increased costs associated with another child(ren) of a parent
Costs associated with the care of a special needs child(ren)
Though not all Orlando child support cases warrant a deviation from the child support guidelines, our attorneys will diligently analyze the facts of your case to determine whether a deviation is an option for you.
Do you have questions about child support or deviating from the child support guidelines? Call our Orlando office at (800) 822-5170 to schedule your consultation with an child support attorney in Orlando FL today.
How Is Child Support Paid in Florida?
Support payments can be made either online, in cash, or via mail to the Florida Department of Revenue. The State of Florida will keep track of when payments are made, how much is paid, etc. and will then disburse those payments to the other parent who is caring for the child. In some cases child support payments can be deducted directly from your paycheck. Those payments will then be paid out to the other parent either via payment card or direct deposit into their bank account (you can read more about Florida child support payment methods here).
When Does Child Support End in Florida?
In most situations child support payments end as soon as your child turns 18. However, there are several situations where this timeline can be extended:
If your child is still enrolled in high school when they turn 18, in situations like this you will need to continue paying child support until they graduate

If your child is not going to be able to graduate from high school by the age of 19, you may be allowed to terminate payments when they turn 18

If your child has special needs, you may need to continue paying child support for as long as they are unable to care for or support themselves; sometimes this is a lifelong commitment
There are several other qualifying events that can allow you to terminate child support payments.
If you would like help looking into your situation, you can contact the Orlando child support attorneys at The Virga Law Firm today by calling (800) 822-5170!
How Do You Report Non-Payment of Child Support?
Since child support payments are often mandated by the courts themselves, it's important to report any failure to comply to the court that issued the order. Failure to make child support payments is a crime and can result in serious penalties including suspension of the parent's driver's license, taking money directly from their paycheck, and more. To report non-payment of child support, you can submit an application for enforcement online. You can also hire a lawyer in Orlando to represent you and fight for your right to receive child support.
Enforcing or Modifying Child Support in Orlando FL
Our child support lawyers in Orlando, FL, can assist you with either modifying your child support or enforcing your child support order. Our experienced attorneys will thoroughly examine the facts of your case to develop compelling arguments to support the enforcement or modification of your current support order.
Enforcing Current Child Support Order
Our Orlando child support lawyers understand the urgency in enforcing current child support orders. We are skilled in timely assessing the nature of your case and pursuing your claim in court. Child support is the right of the child. No matter why the other parent may have stopped paying, your family law attorney will advocate for you and your child to ensure that the court addresses your anxieties.
Modifying Current Child Support Order
Though there are various justifications for modifying a child support order, the modification must be based on a substantial change in circumstances. For example, modification may be justified if there has been a substantial increase or decrease yours or the other parent's income. Modification may also be an option if your child's daycare and/or healthcare costs have decreased since the original order was issued by the court.
"I will definitely be recommending to anyone I know that needs a child custody or divorce attorney!"

- A Divorce Client

"If you are looking for an attorney who is professional, honest, knowledgeable and responsive to your needs, Gerard Virga meets such requirements."

- A Divorce Client

"He responded to my messages promptly and I never felt rushed when speaking with him in meetings and phone conversations."

- A Divorce Client
Our Firm Gets Results
More Reasons to Hire Us:
Committed to Aggressive Representation

Same-Day Scheduling Available

6 Locations Throughout Florida

Over 100 Years of Collective Experience