Orlando Child Custody Attorneys
Get Help with Your Custody Case in Orlando –
407-512-0887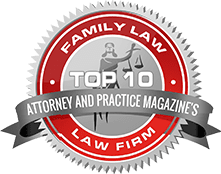 At The Virga Law Firm, P.A., our Orlando child custody lawyers can assist you in advocating for you and your child, whether you are married and going through a divorce in Orlando, or have separated and need to establish or determine paternity.
Our child custody attorneys in Orlando, FL know how serious a custody case is to a loving parent. Many of our custody lawyers are either divorced parents or have personal experience in dealing with child custody dilemmas. We can provide the understanding counsel and experienced representation that you need.
Contact us now! Our custody lawyers in Orlando, FL know firsthand the challenges of co-parenting and the struggles parents will face when determining what is in the best interest of their children.

How Is Child Custody Decided in Florida?
Unless both parents can mutually agree on how to raise their child(ren) in all aspects of life, Florida will use the "Best Interest of the Child" standard to govern child custody. In Orlando, child custody cases, the court typically determines a proper parenting plan for the parties to follow, and in each plan, a time-sharing schedule is established and parental responsibility is assigned.
Contested Custody Cases
In contested child custody cases in Orlando, the court will conduct a trial to determine how often and under what conditions each parent will spend time with the child(ren). The court will also determine how the parents will handle decision-making in regard to issues involving the children. For example, the court will determine how the child's healthcare, academics and extra-curricular activities will be addressed by the parents. If the court is required to order a parenting plan, the parties will be required to follow it.
Uncontested Custody Cases
Trial is not always required. Our Orlando child custody attorneys are skilled at negotiating parenting plans outside the courtroom that are not only in the child's best interest, but also achieve our client's legal objectives. If you and the other parent are able to reach an agreement, this can be filed with the court without having to go through the grueling trial experience.
Time-Sharing Between the Parents
The Florida Courts have taken a step back from using the term "custody." Rather than use the term "custody," the court regulates a parent's "time-sharing" with the child(ren).
The court can use several different schedules to effectuate a time-sharing schedule that is in the best interest of the child. However, in most cases the court will grant one parent with majority time-sharing status. The parent who is determined to have minority time-sharing will be awarded less time than the majority time-sharing parent.
How Is Time-Sharing Determined in Florida?
Various factors are evaluated when determining what time-sharing schedule is in the best interest of your child. In some cases where the conduct of one of the parents causes the court to be concerned about the safety of the child(ren), the court may require that parent to only see the child during a supervised visitation. The court may also impose further restrictions, such as drug testing or counseling where the safety and best interests of the child requires it.
Our child custody lawyers in Orlando, FL have the necessary skills to evaluate the facts of your case to competently determine a time-sharing schedule that is both pleasing to you, but more importantly, in your child's best interest.
Parental Responsibility in Orlando
The decision-making component of a Florida child custody case is known as Parental Responsibility.
The decisions covered by Parental Responsibility generally are:
Extracurricular Activities
Medical Decisions
Academic Decisions
Mental Health Decisions
Types of Parental Responsibility in Florida Custody Cases
Florida has three forms of parental responsibility that the court may order: shared parental responsibility, shared parental responsibility with ultimate decision-making authority, and sole parental responsibility.
Shared Parental Responsibility – This is the most frequently ordered form of parental responsibility. Shared Parental Responsibility requires the parents to meet and/or confer with one another regarding all decisions relating to the upbringing of the child. The parents must agree upon all major decisions discussed. If the parents cannot agree, then they must return to court to allow for a judge to ultimately decide the outcome.
Shared Parental Responsibility with Ultimate Decision-Making Authority – The court will again order that the parents confer with one another to discuss all major issues related to the upbringing of the child(ren), but in the event the parents do not agree, the court will grant one parent the ultimate authority to make the decision.
Sole Parental Responsibility – This is only ordered in rare cases where having both parents involved in the decision-making would be detrimental to the best interest of the child.
Fathers' Rights in orlando, FL
Can a father get custody of his child in Florida, or is Florida a mother's rights state when it comes to custody?
Florida favors shared parental responsibility whenever possible, meaning that both the mother and father share custody. Sole parental responsibility is only ordered if it is truly in the child's best interests — but in those cases, it often feels like the mother has the advantage.
If you are a father fighting for your father's right to custody or visitation, then you need an experienced fathers' rights lawyer on your side. Our team understands Florida custody laws as they apply to fathers' rights and can help you present a strong case to the court as to why you should remain in your child's life.
What Is an "Unfit Parent" in Orlando Custody Cases?
What makes a parent "unfit to provide for the care and control of the child"? As outlined in Florida Statute 751.05, a parent can be deemed unfit if he or she has a history of:
Child abuse
Abandonment
Child neglect
Speak with a Child Custody Lawyer in Orlando, FL
Our Orlando child custody lawyers are committed to your case and the best interests of your child. We are willing to take your case to trial to protect your rights as a parent, as well as advocate for your child's well-being.
Our child custody attorneys in Orlando are committed to aggressively representing all of your interests. Call 407-512-0887 today to schedule your consultation.
- A Divorce Client

- A Divorce Client

- A Divorce Client

- A Divorce Client

- Adam Ellis, Litigation Lawyer

- Rusty Shepard, Criminal Defense Attorney

- A Divorce Client

- Joseph Turner, Criminal Defense Attorney

- A Litigation Client