Pensacola Military Divorce Attorneys
The Virga Law Firm, P.A. – Call Us Today at
(800) 822-5170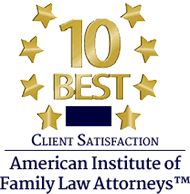 The Pensacola divorce process can be complicated enough for certain divorce situations, but when one or both spouses are military members, the divorce process can be an even more a daunting experience. Military divorces promote a multitude of unique problems that most divorcing couples never have to contemplate, such as military retirement, Tricare healthcare coverage, time-sharing if one parent is deployed, as well as time-sharing challenges that arise from a military member receiving new orders. These are just a handful of the unique hurdles our Pensacola military divorce attorneys have counseled clients on when dealing with their military divorce.
Why Call Our Military Divorce Law Firm?
80+ Years of Combined Experience
Selected for The National Trial Lawyers Top 100
24/7 Attorney Access & Same-Day Appointments
Convenient Location Near a Military Base
---
Below are further examples of complications that our Pensacola military divorce lawyers are experienced with and that may arise when dealing with a military divorce. Call (800) 822-5170 for legal help!
Military Divorce and Jurisdiction
Jurisdictional disputes are a unique problem that consistently affect our military clients. More often than not, the parties simply cannot agree on where to bring the action for divorce depending on where the parties are stationed, and where the parties may actually be domiciled. Our experienced Pensacola military divorce lawyers will be able to evaluate your case to advise you on the best course of action for pursuing your case in the proper jurisdiction.
Florida has a six-month residency requirement before a divorce case can properly filed in the state. However, Military members who may not have not been physically present in the state of Florida during the last six (6) months, but have Florida listed as their state of residency may still be able to file for divorce in Florida. If you have questions regarding whether Florida has jurisdiction over your military divorce, do not hesitate to call our Pensacola military divorce attorneys today to schedule your consultation.
Military retirement and divorce
Another unique attribute in military divorces is the question as to whether or not military retirement is an employment benefit that is dividable in a divorce proceeding. If the spouse seeking their portion of the military retirement in a divorce case has been married to a military member for 10 years, then they are entitled to receive their court-ordered portion directly from the government. If the party seeking the portion of the military divorce has not been married to the service member for 10 years, they can still receive their portion of the military retirement awarded under the divorce order, except the payment will be paid to the military member.
Our experienced Pensacola military divorce attorneys are available to assist you with the unique issues like this that arise from a military divorce. Call our Pensacola office today to schedule a consultation.
- A Divorce Client

- A Divorce Client

- A Divorce Client

- A Divorce Client

- Adam Ellis, Litigation Lawyer

- Rusty Shepard, Criminal Defense Attorney

- A Divorce Client

- Joseph Turner, Criminal Defense Attorney

- A Litigation Client

- Visi, A Divorce Client