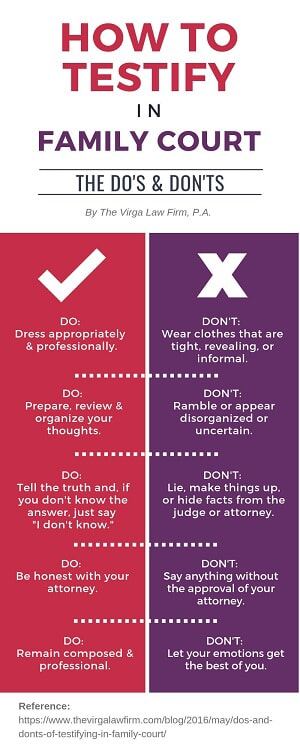 At Virga Law Firm, P.A., we understand how nerve-wrecking and overwhelming testifying in a family case can be. The subject matter is often emotional, since it can be about an individual's child custody or a traumatizing domestic violence incident. However, how you act and answer questions in court could essentially make or break your case.
What You Should Do to Prepare & How You Should Act in Court
Dress appropriately, as if you were going to a religious service or job interview.
Prepare, review and organize your thoughts in order to establish the key points you are trying to clearly make.
Since you are under oath, you must tell the truth and lying will only get you into more trouble. If you don't know the answer to a question, just say, "I don't know."
Be honest with your attorney since he/she is there to represent your best interests. Inform them about everything and let them determine what and how the court should hear those specific facts.
While it's acceptable to cry, avoid yelling at the opposing counsel and being hostile to the judge.
What You Should Not Do to Prepare & How You Should Not Act in Court
Don't lie or hide facts from the judge or your attorney. A lie or an omission of truth can significantly hurt your credibility.
Don't wear clothes that are too tight, display too much skin, exposes underwear or bra straps.
Avoid rambling or bringing up irrelevant points.
Don't let your emotions get the best of you.
Contact our Panama City family lawyer to schedule your confidential consultation today.